Fighting Talk was formed in 1999 by Martyn Devlin who has been involved on the North East boxing scene for over 40 years, and has featured some of the greatest names in boxing history at functions he has organised to allow fight fans to meet their heroes.
Boxers Martyn has featured include Roberto Duran, Marvelous Marvin Hagler, Sugar Ray Leonard, Tommy Hearns, Mike Tyson, Marco Antonio Barrera & Erik Morales, Frank Bruno, Joe Calzaghe, Ricky Hatton, Nigel Benn, Barry McGuigan, Ken Buchanan & John Conteh to name but a few.
In 2010 Martyn was awarded a Lifetime Achievement Award by the South Shields Gazette for his services to Amateur boxing.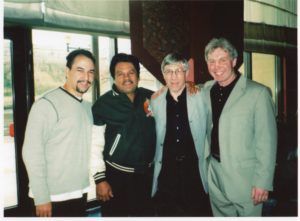 In 2002 "Fighting Talk" was chosen by the legendary boxer Roberto 'Hands of Stone' Duran to stage his first ever UK tours following the momentous occasion when Roberto met up with Scotland's Ken Buchanan for the first time since their world lightweight title fight in 1972. For his efforts in organising the reunion and his UK tours Roberto then invited Martyn to his retirement tribute night in Panama City.
"Fighting Talk" followed that by being the first UK Promoter chosen by the legendary Tommy 'Hit Man' Hearns and his trainer Emanuel Steward to organise the whole of their 2004 UK Tour appearances.
The one and only Sugar Ray Leonard then chose Martyn to organise and travel with him on his first ever UK tour during 2005 and then again during 2006.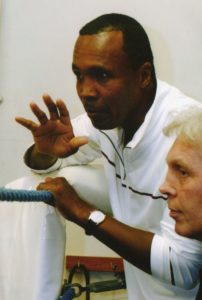 The "Fighting Talk" list of celebrities is endless and includes Nigel Benn, Ken Buchanan, Joe Calzaghe, Steve Collins, Carl Froch, Ricky Hatton, Colin Hart, 'Marvelous' Marvin Hagler, Lloyd Honeyghan, Alan Minter, Terry Marsh, Nicky Piper, Barry McGuigan, Glenn McCrory, Johnny Nelson, Earnie Shavers, John H. Stracey, Jim Watt, Ritchie Woodhall and many, many more. All will tell you some knockout stories from the fight game and inside tales from their own careers, they will also sign autographs and have personal photographs taken with you. If you would like to book one of our champions for your event contact Martyn on 07752515280