Now available: The remarkable story of how Martyn Devlin became the first Promoter in the UK to bring over world boxing legends Roberto Duran, Thomas Hearns & Emanuel Steward and Sugar Ray Leonard to attend dinner show tours.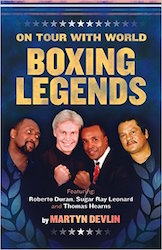 Included in the story:
• The momentous reunion dinner Martyn organised between Roberto Duran and Ken Buchanan some 30 years after their controversial world title fight in New York's Madison Square Gardens
• Attending Roberto Duran's tribute night in Panama City
• Dealings with the USA Attorneys and UK Promoters
• Travelling with the Legends
• Being looked after in London by the underworld figures
• Taking Sugar Ray Leonard home to meet the wife and daughter
• The surprise visit to meet the young boxers at his Jarrow gym
Order your copy now via PayPal for £9.99 (+ £1.50 P&P)
Free home delivery for customers in the Tyne & Wear area.
(Please call 07752 515 280 or order online).
Also available at Amazon – Take a look at reviews on Amazon